ANA InterContinental Tokyo-Club Intercontinental "Kaze" Stay Report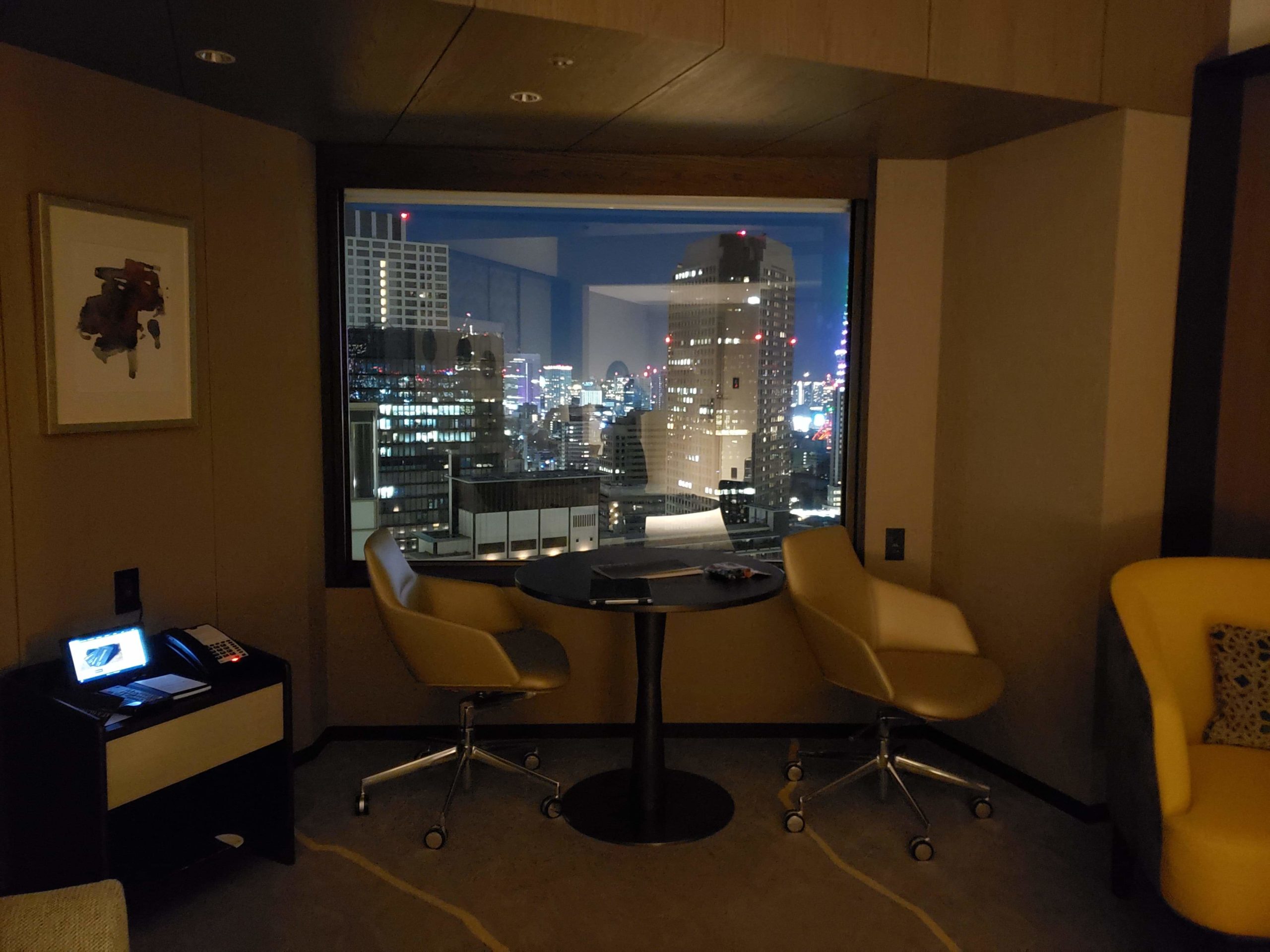 スポンサードサーチ
ANA InterContinental Tokyo-Club Intercontinental "Kaze" Stay Report
This time, when staying at ANA Intercontinental Hotel Tokyo,
Introducing the Club Intercontinental Corner Suite "Kaze" room and club floor.
For those who want to stay in one room with two adults and two children including family, friends, relatives, etc.
This article is helpful.
Maybe another baby would be okay.
The nearest stations of "ANA Intercontinental Hotel Tokyo" are Tameike Sanno on the Ginza Subway Line and Roppongi 1-chome on the Oedo Line.
If you come by car, there is an underground car park dedicated to the hotel. There is a cap charge for guests.
ANA InterContinental Tokyo-Club Intercontinental "Kaze" Stay Report
If you're staying on the club floor, check out the benefits in advance and make the most of them!
I checked in normally at the front desk because I did not understand well,
Check-in is possible at the Club Lounge.
・ Club lounge access privilege
Please enjoy afternoon tea using seasonal ingredients together with Ronnefeld's carefully selected blended tea.
You can choose the Club Lounge-only menu, which includes a varied Japanese breakfast that cooks carefully selected ingredients in a dedicated kitchen.
After receiving your order, we will prepare fresh dishes on the table.
During cocktail time, cocktails prepared by mixologists, including various spirits, wine, sake, shochu,
Please enjoy with chef special tapas menu using carefully selected materials.
Coffee, tea and soft drinks are always available during business hours.
Private meeting room (free up to 2 hours): Video and audio conferencing
Shower equipment
Regular press service (Free up to 2 points per stay)
Free local calls (only area code 03)
Club Intercontinental Corner Suite "Wind" Room Introduction
ANA Intercontinental Tokyo_Club Floor Junior Suite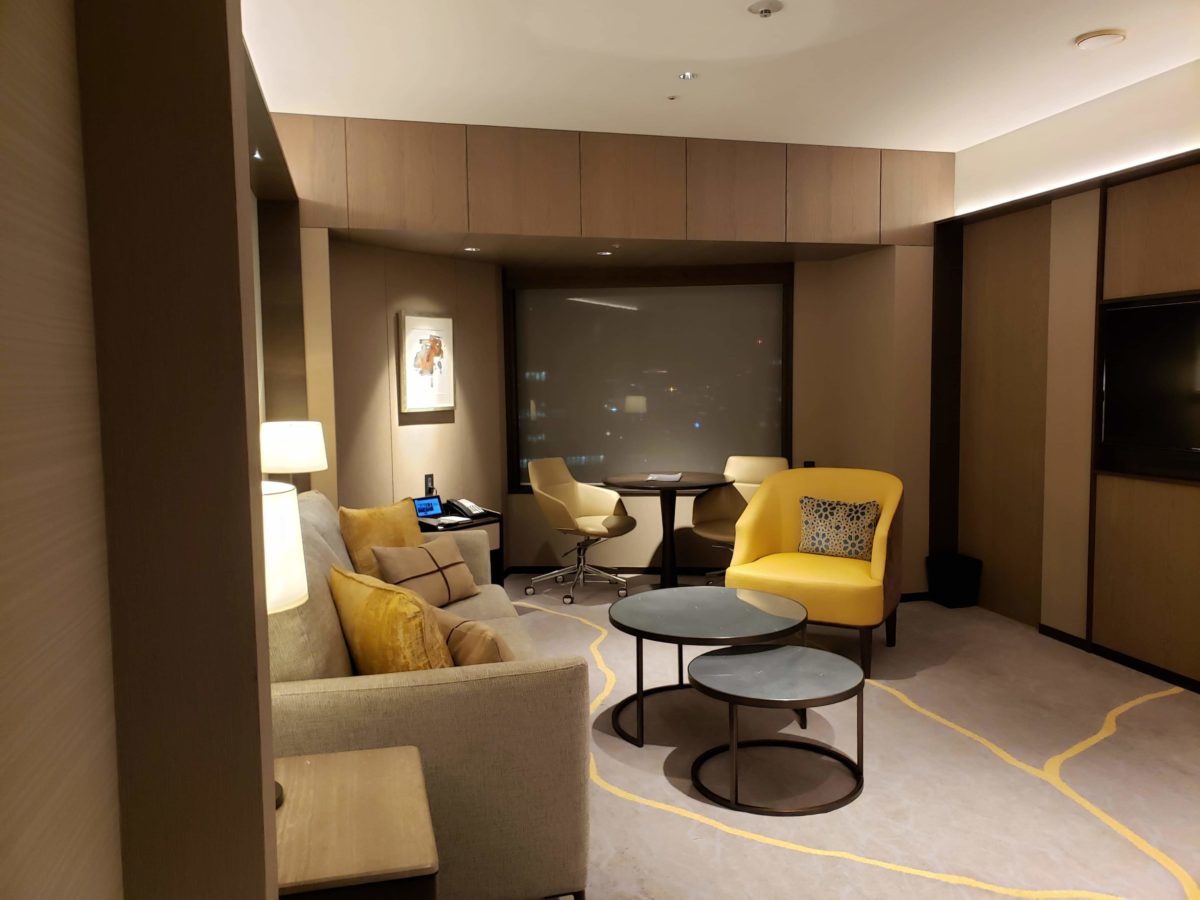 ana intercontinental hotel Tokyo
The Junior Suite enters and the bedroom and bathroom on the right,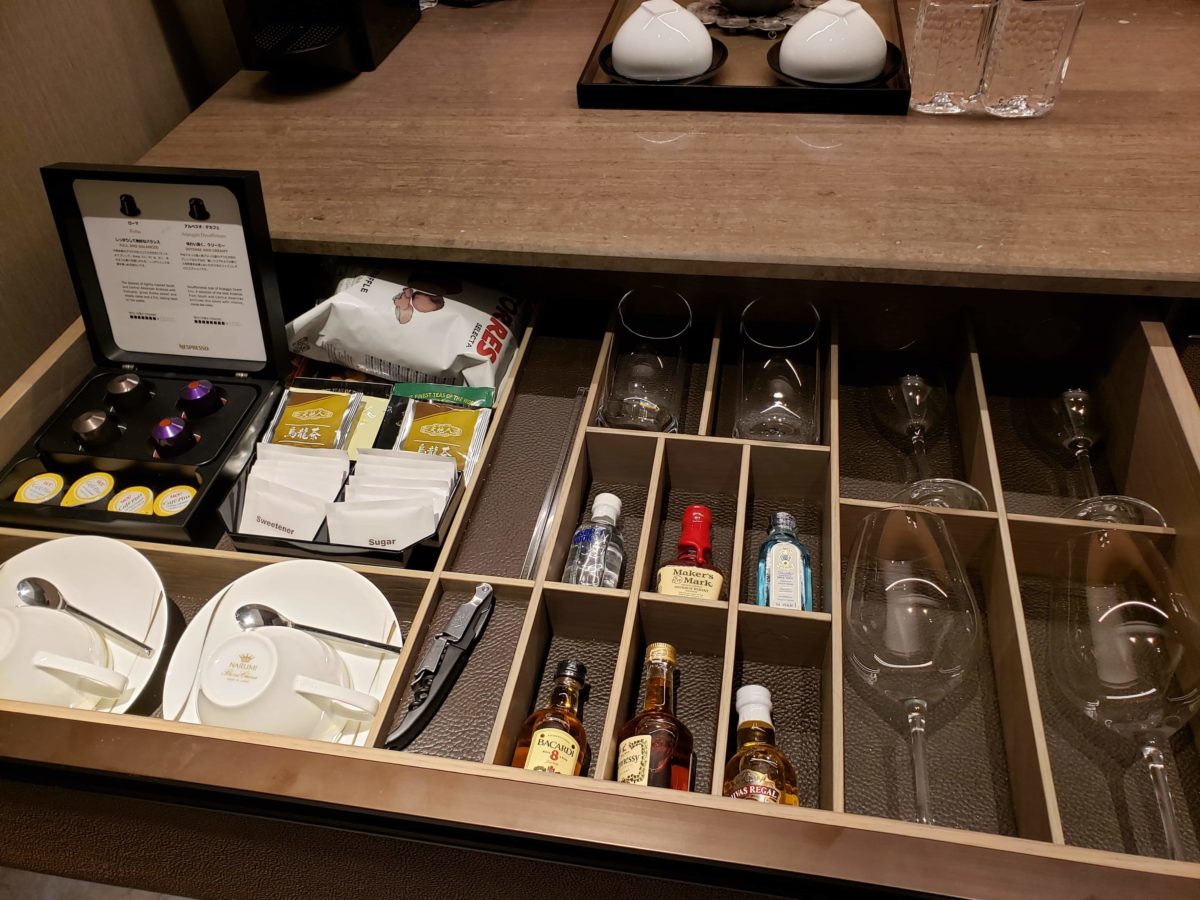 When I looked around the room and opened the drawer, I found a champagne glass.
Children received champagne and parents received champagne.
It became a refreshing palpy and enjoyed the night of Pongi.
Although simple, it has a leather-rich, easy-to-use desk, so I could work on my computer.
ANA Intercontinental Tokyo_Refrigerator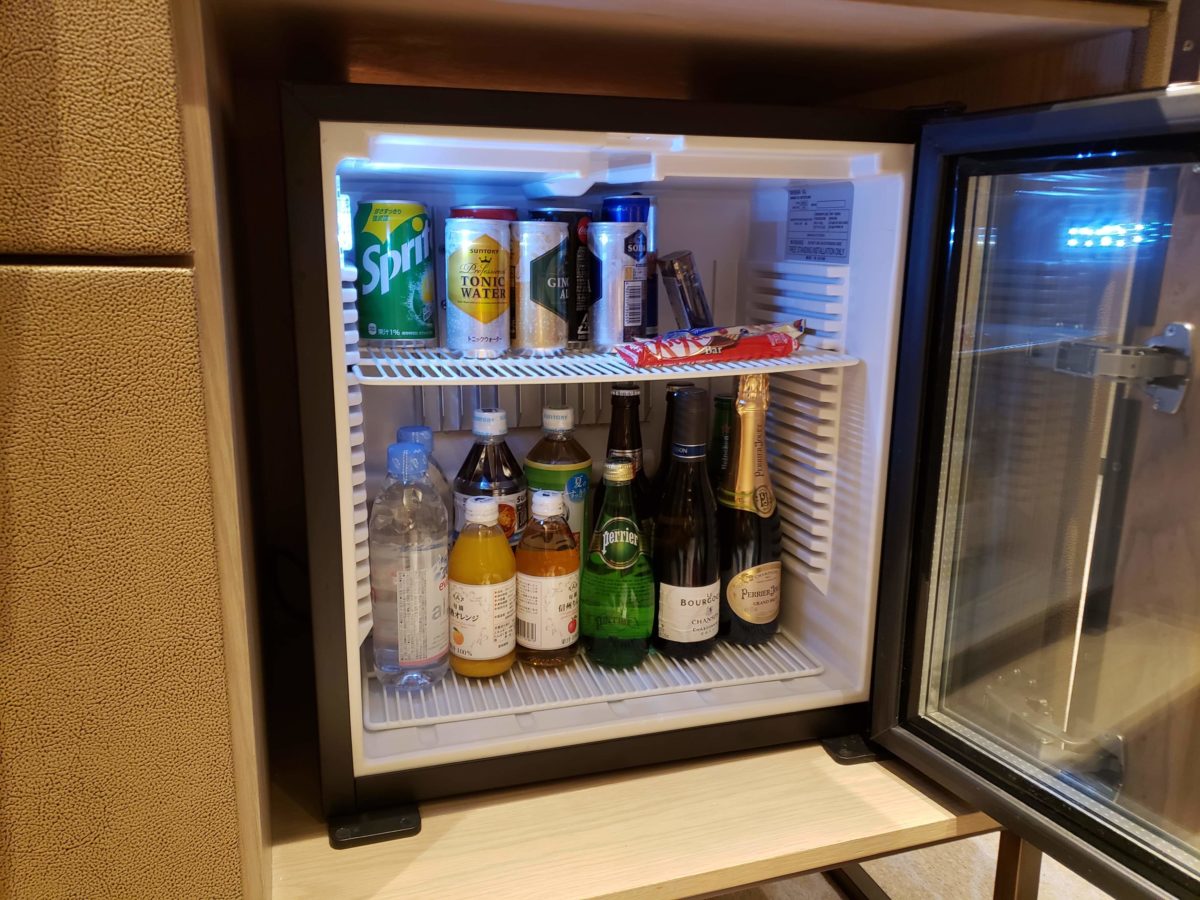 ANA Intercontinental Tokyo_Sofa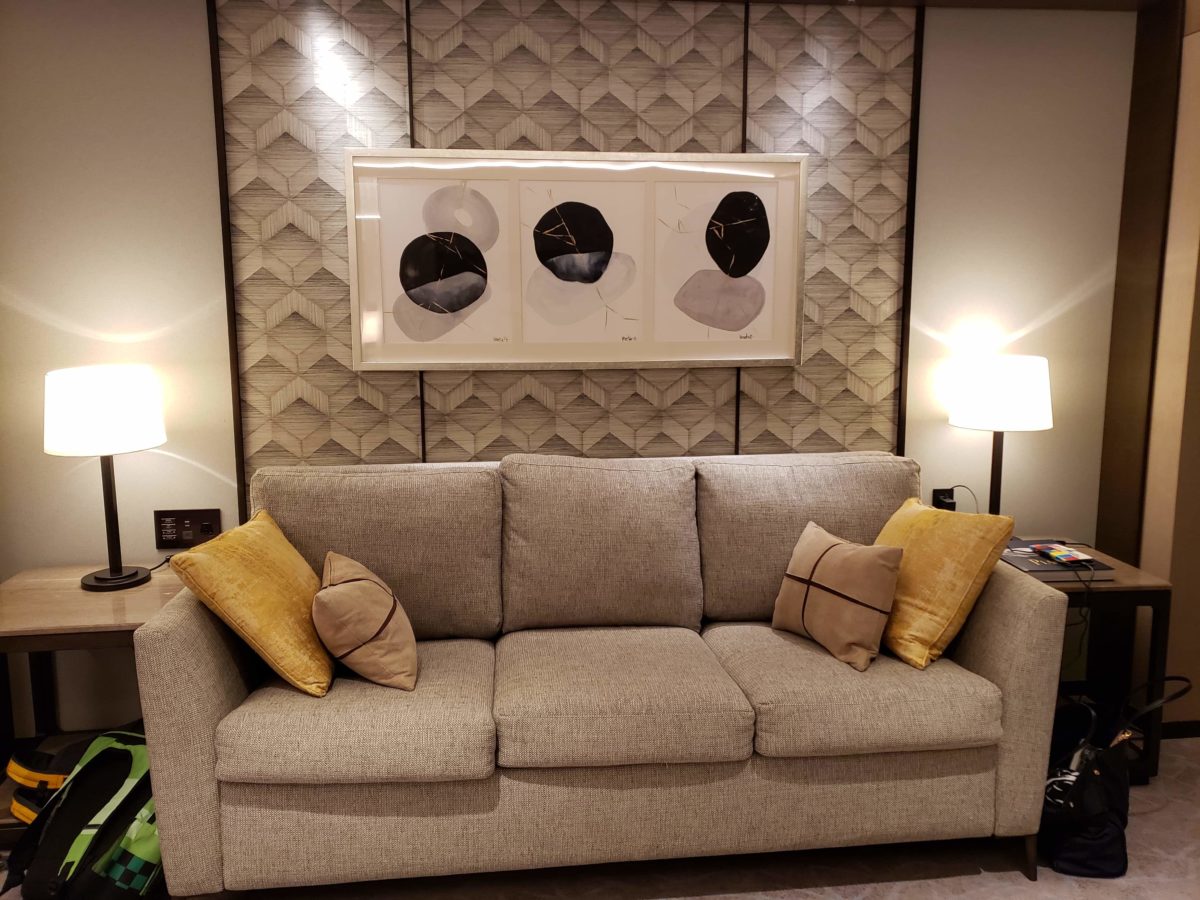 Sofa is a type that can also be a bed sofa, two children get along well, so they slept here,
Adults used the bed comfortably.
ANA Intercontinental Tokyo_bed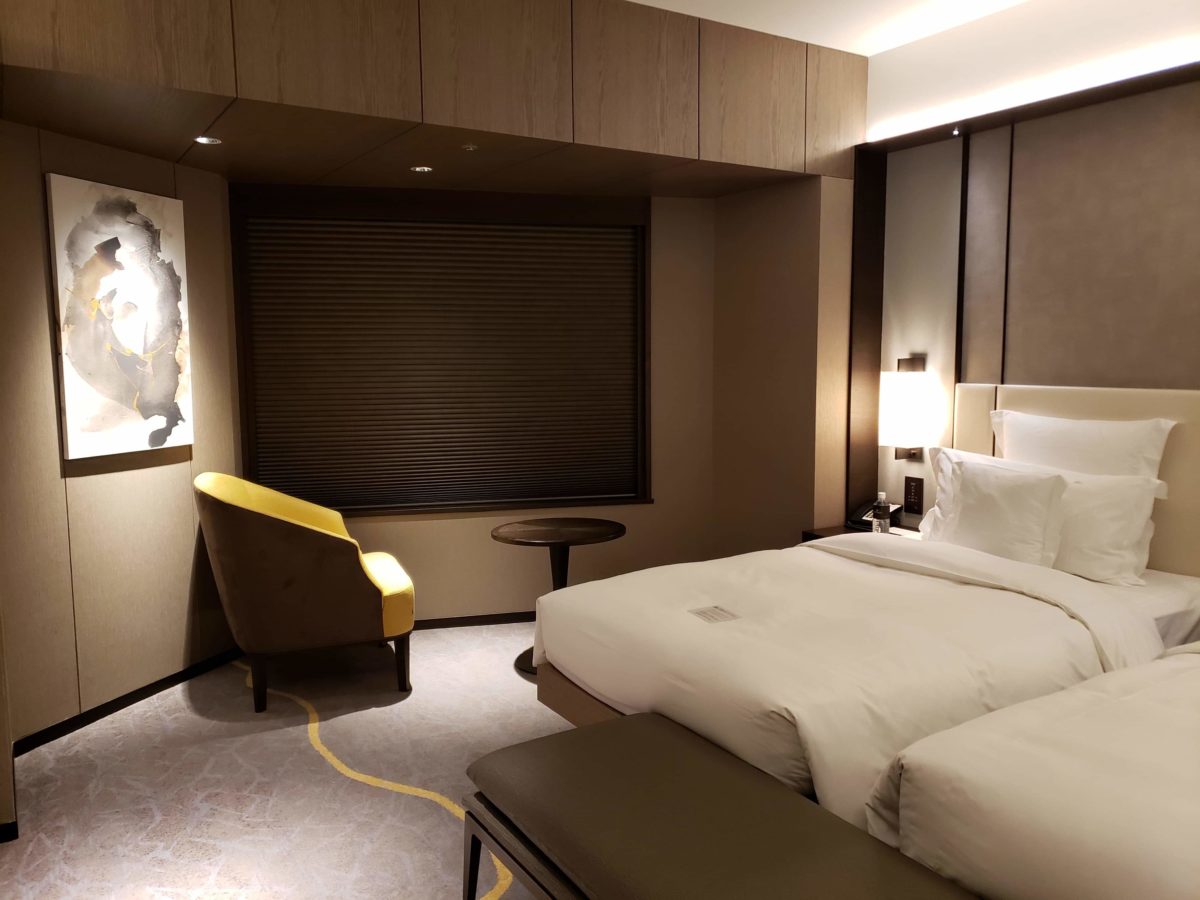 Bath Room
ANA Intercontinental Tokyo_Bathroom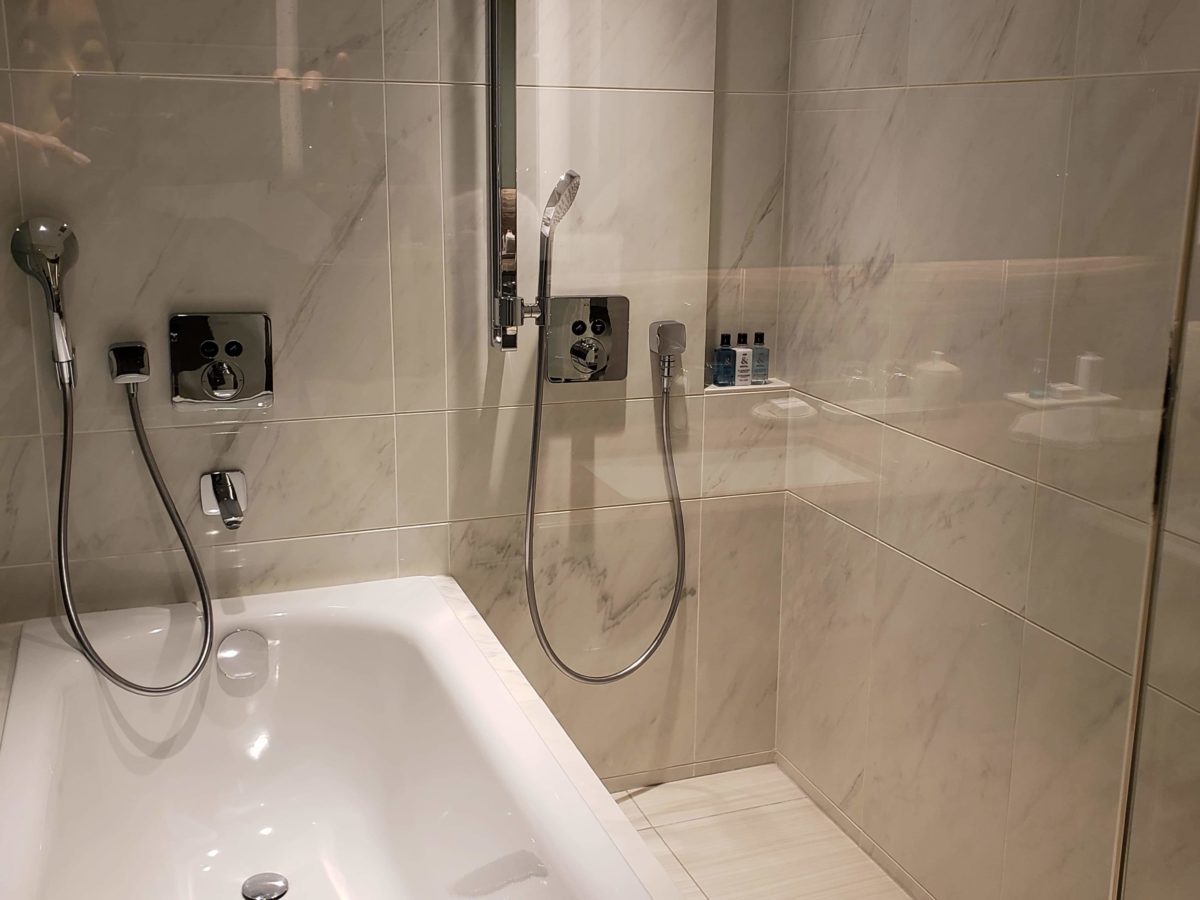 This room was a bathroom with a washing room and a bathtub.
ANA Intercontinental Tokyo_Amenities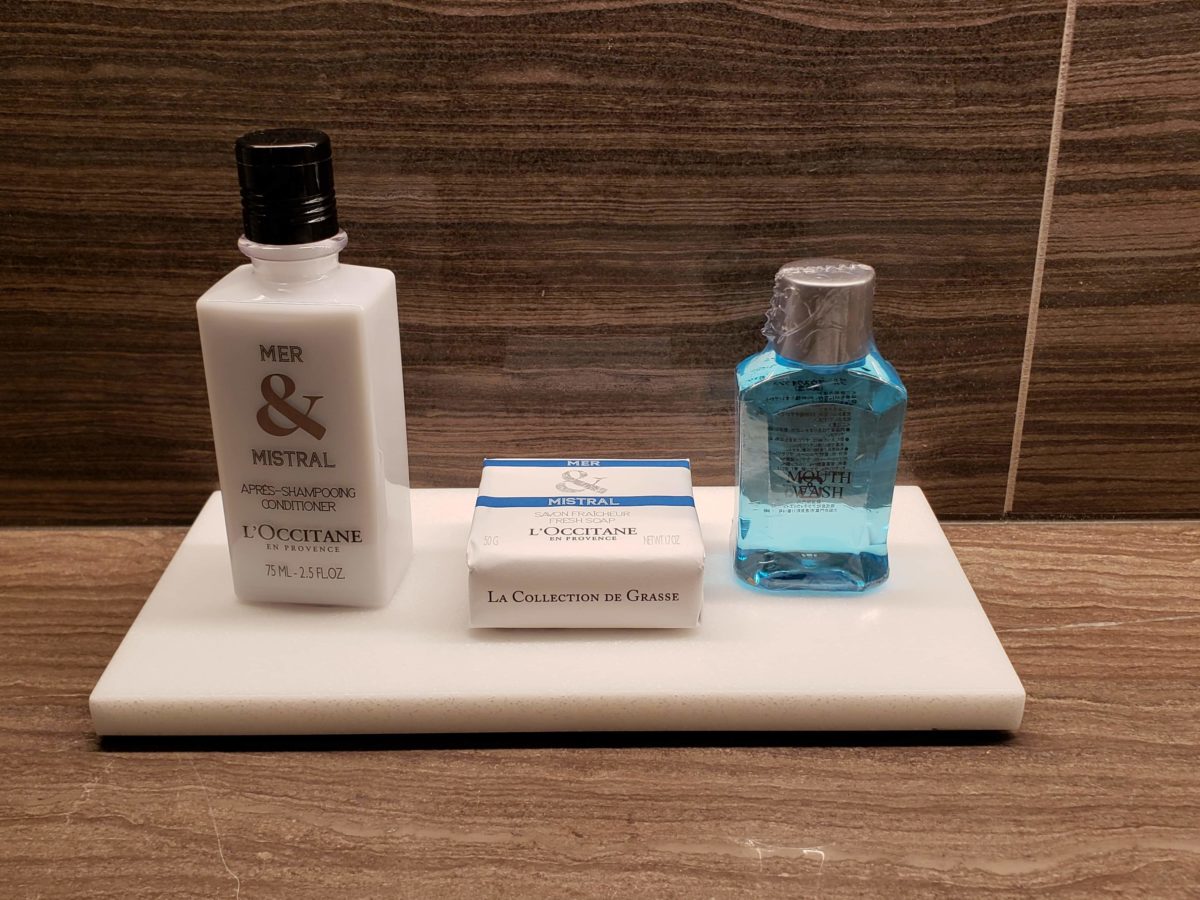 ANA Intercontinental Tokyo_Night view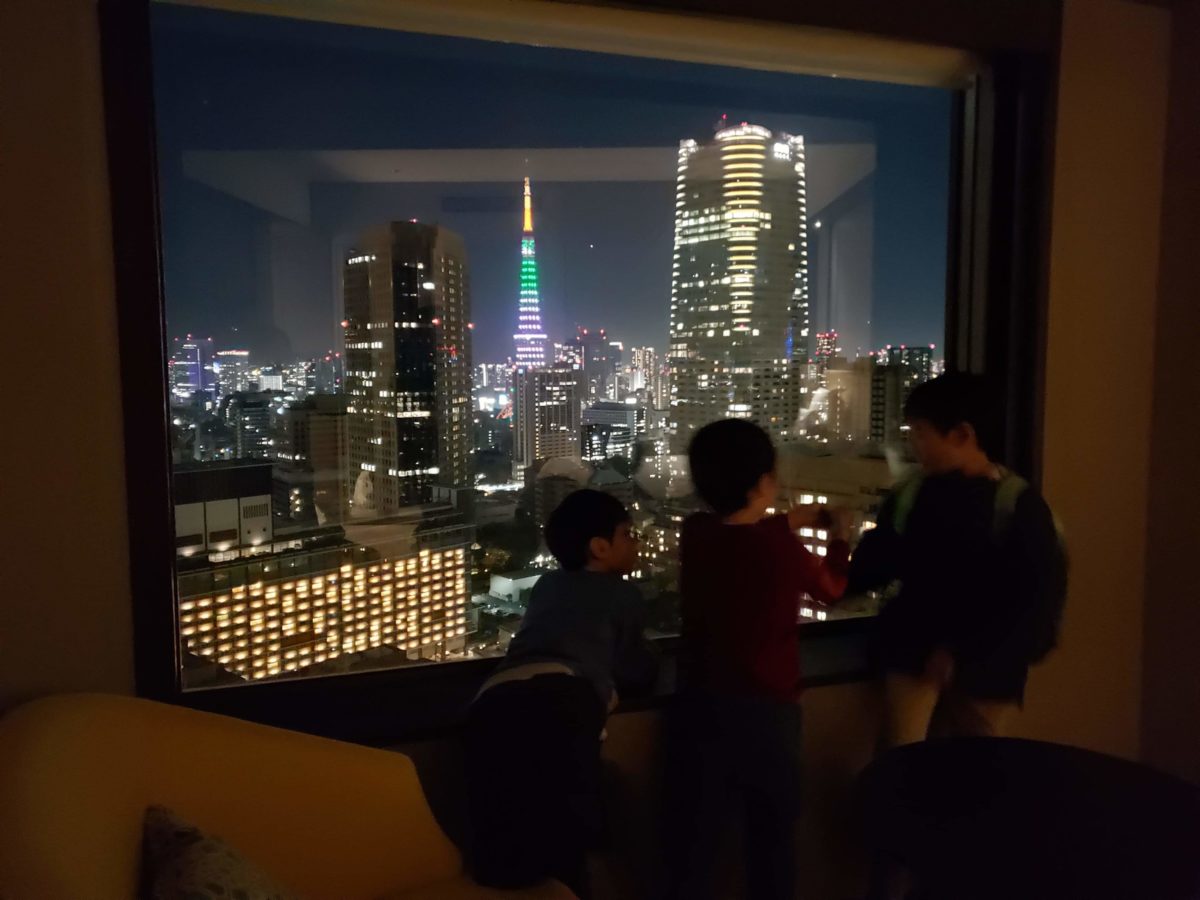 You can see the Tokyo Tower from the room.
From the lounge, I could see the Parliament Building.
◇ ANA InterContinental Tokyo-Club Intercontinental Lounge Introduction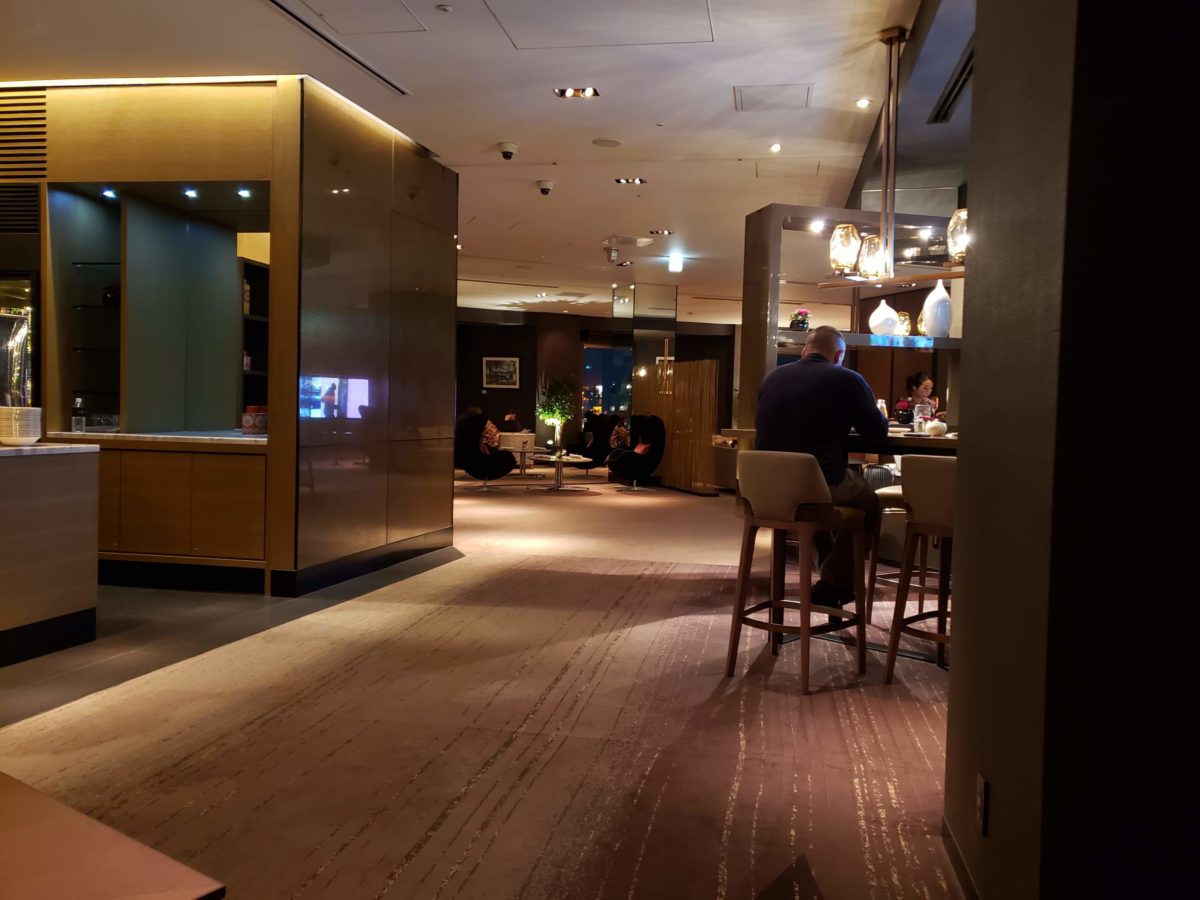 No, it's already wide! !
If the weather is fine, you can see Mt.Fuji, on the 35th floor of the hotel,
This is the largest lounge in Japan.
This is a special lounge where only guests on the club floor can enter.
Check-in is also possible here.
I checked in on the second floor and left my luggage, but could not receive the keys in the morning,
Would you like to hand it over in the lounge? I was asked.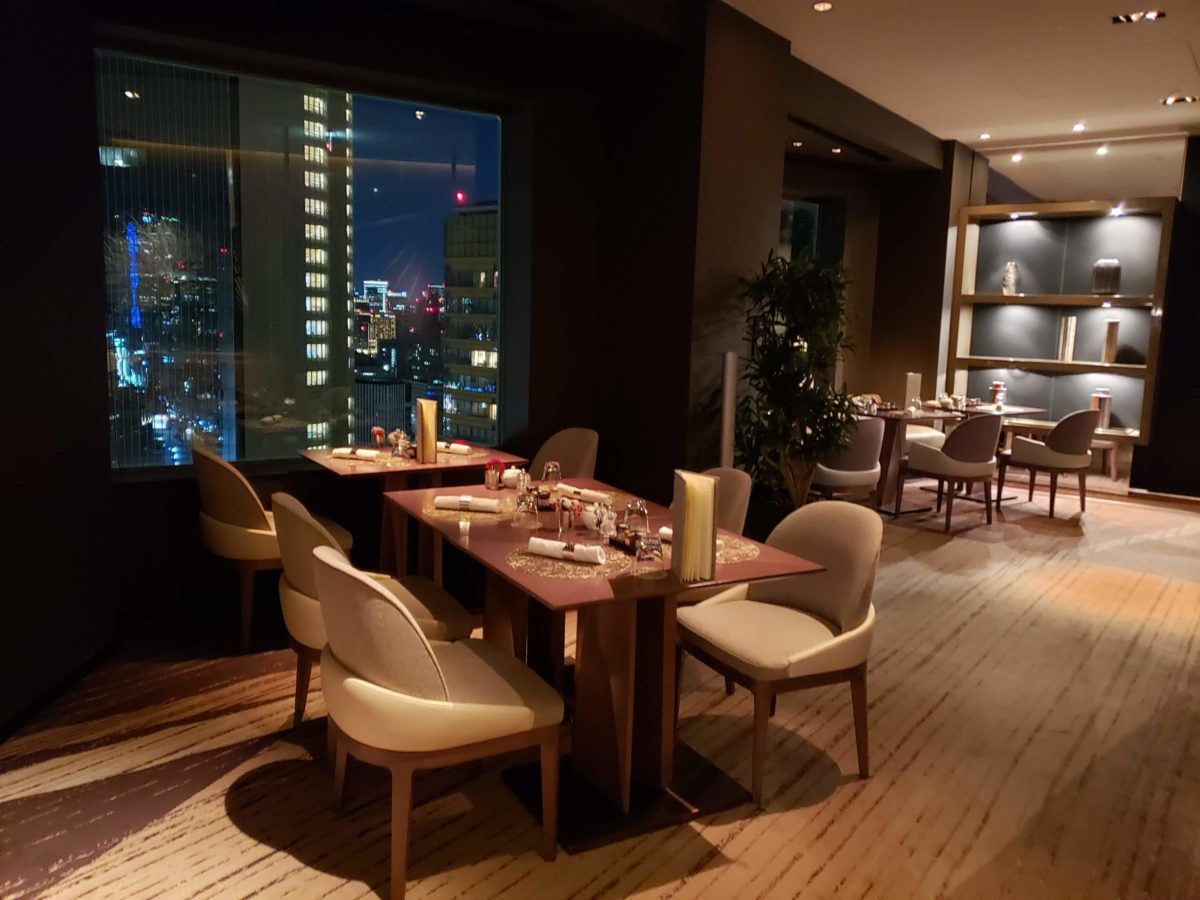 When you enter the lounge, there is a reception, which is divided into a sofa area and a dining area.
The dining area has quite a few seats.
The table spacing is quite loose.
There was also a counter table that could be used by one person.
The club lounge is available for three hours.
・ Breakfast service from 7:00 to 11:00
・ Afternoon tea: 14: 00-16: 00
・ Evening cocktail 17: 30-19: 30
However, after the evening cocktail hours, soft drinks can be used outside hours.
then,
Basically, there are child entry restrictions when alcohol is being served.
* Cocktail time is limited to customers 13 years and older.
However, we received permission from the staff and were able to use it with two elementary school students.
I think it was because there was only one other customer and it was rattled.
I thought it would be good to stay again just to use this lounge in a really comfortable space.
ANA Intercontinental Hotel Tokyo Club Lounge -Breakfast-
Photo, breakfast of Pierre Gagnaire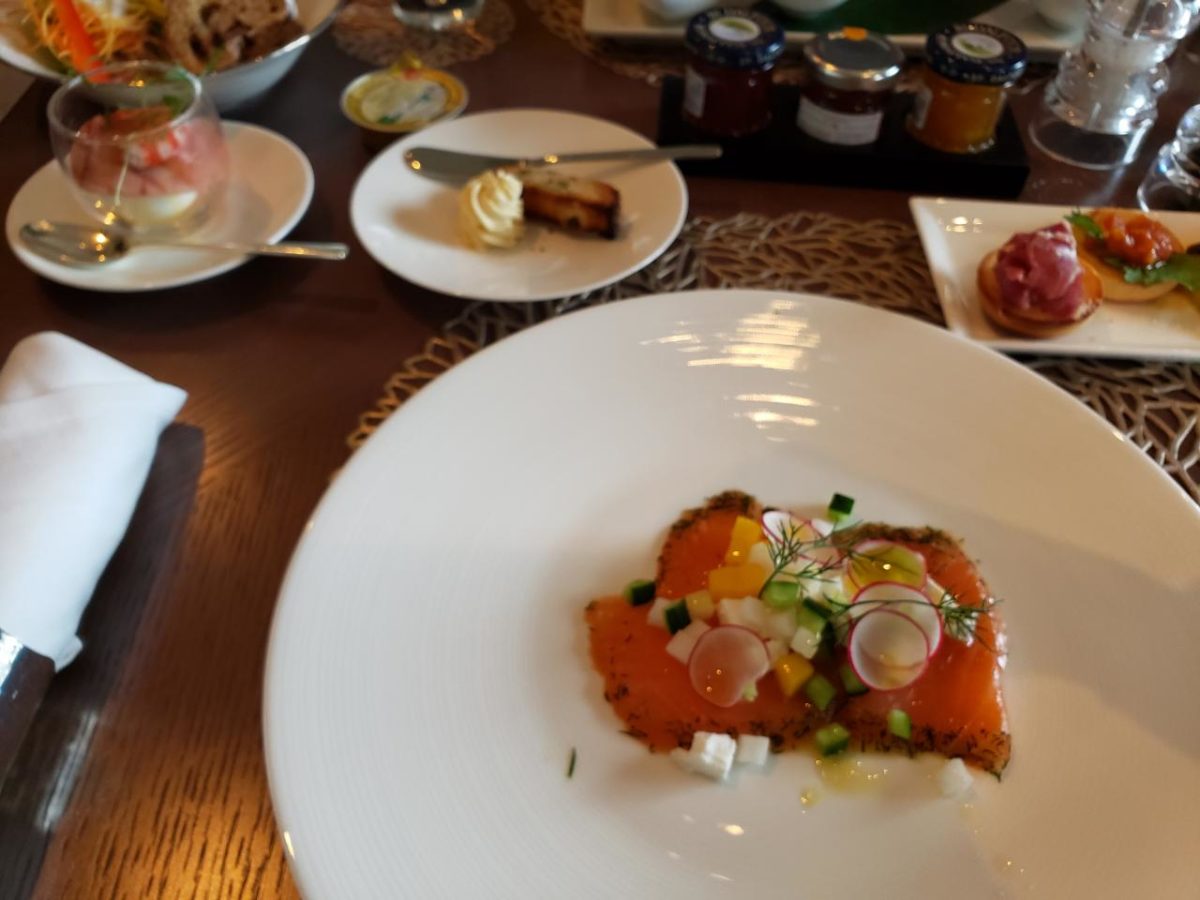 ・ ANA InterContinental Tokyo-Club Intercontinental Lounge Breakfast Menu
·egg
Scrambled eggs
Fried egg
Sunny side up or over easy
Poached egg
plane
Boiled egg
Hard, medium or soft
Omelette
With your favorite ingredients: ham, cheese, tomato, mushroom, onion, paprika
You can choose your favorite side menu for all egg dishes.
Toast, bread basket, ham,
Crispy or roasted bacon, pork sausage,
Chicken sausage, mushrooms, spinach, tomatoes,
Vegetable saute, green onion, hashed brown
smoked salmon
・ Breakfast for Pierre Gagnaire
Marinated salmon with dill
Avocado / chevre cheese / mango
With a gel of waffle selfie and grapefruit
Rie Saikimaki
PG tartine
Italian bread
・ Foie gras and Iberian ham
・ Tomato jam and perilla
Homemade honey butter
・ Seasonal gourmet
Western
Healthy gourmet
Egg white omelet, avocado, arugula,
Almond flakes, olive oil,
Fresh strawberry
eggs Benedict
Poached egg on English muffin,
Hollandaise sauce
Choose ham, salmon, spinach if you like
Belgian waffles
Maple syrup, whipped cream,
Serve with blueberry compote
French toast
Served with maple syrup and whipped cream
Morning Boost / Morning Awakening
Scrambled eggs, bacon, pork sausage,
Hashed brown, mushroom saute,
Steamed spinach, roasted tomato, wheat toast
Spa Set / Awakening of Beauty
High-protein egg white omelet,
Fresh avocado, asparagus,
With crispy spinach
Ricotta cheese salad walnuts, whole wheat toast
oatmeal
-Club Intercontinental
Collection
Asian
・ Japanese set meal / hospitality
Thick grilled egg, grated radish, grilled mentaiko, grilled fish
Sweet potato boiled with sweet potato, ginger and seaweed
Chawanmushi (chicken, ginkgo, shiitake, lily root)
Seasonal vegetables stew, pickles
・ Dim Sum
Selection of dim sum with soy sauce
·Porridge
Please choose from white and yu
·noodles
Four
Along with pacchi, pepper and nampla
* The above is information as of December 2019
◇ Other, garden pool, etc.
This time, it was a stay in December in the middle of winter, so it was not available, but with the benefits of the club floor,
Garden pool is available free of charge.
Outdoor pool (20m x 13m, 1.3m deep)
Round toddler pool (circle 6m in diameter @ 0.4m deep)
Poolside snacks (28 seats)
Equipment Bath towel, shampoo, rinse, body soap, hair dryer, hair liquid
Lotion, emulsion, cotton puff, tissue, cotton swab, flip flops (loan)
In addition, we also rent swimwear (pay).
Next time, I want to use it by all means.
The entrance fee is usually 4,000 yen per person, so if you use it with 4 people, this is also a great deal.
The rest is a private meeting room (up to 2 hours free) for business use.
Conclusion
The satisfaction of ANA InterContinental Tokyo-Club Intercontinental "Kaze" was very high.
This time, I was lost in Shinagawa Prince with two rooms, but I gave priority to stopping in the same room.
With the benefit of Intercontinental Ambassador, late checkout was free,
The next day, I stayed in the room until 13:00.
Unfortunately, the early check-in benefit was not available.
Because the guest who stayed before also had the privilege.
Well, because it is a junior suite, the rooms are limited and it may be the way to go.
In connection with that, I didn't get any room upgrade benefits.
I'm an IHG Spire Elite member and an Intercontinental Ambassador member,
I was really worried about the upgrade!
However, at the time of check-in, there was no more room in the junior suite from the front desk person,
There is no upgrade this time. Destroyed for the time being!
So secretly, Intercontinental Ambassador members
If I couldn't get the upgrade, I expected to apply the rule that IHG 10,000 points would be given instead.
However, this also did not add when I saw the point clearing.
This is because when you read the detailed terms, the rooms that are not covered by the upgrade guarantee are described in detail for each hotel
Is there.
Exactly, Club Intercontinental Corner Suite "Kaze" at ANA Intercontinental Hotel Tokyo is not eligible
I was
Next time, as an IHG Spire Elite member and Intercontinental Ambassador member,
I will explain in detail.
I go to Tokyo, but my family, friends and relatives are about 4 adults and children,
For those who want to stay in a room at a nice hotel, this hotel can be recommended with confidence.
スポンサードサーチ