Cup Noodles Museum Review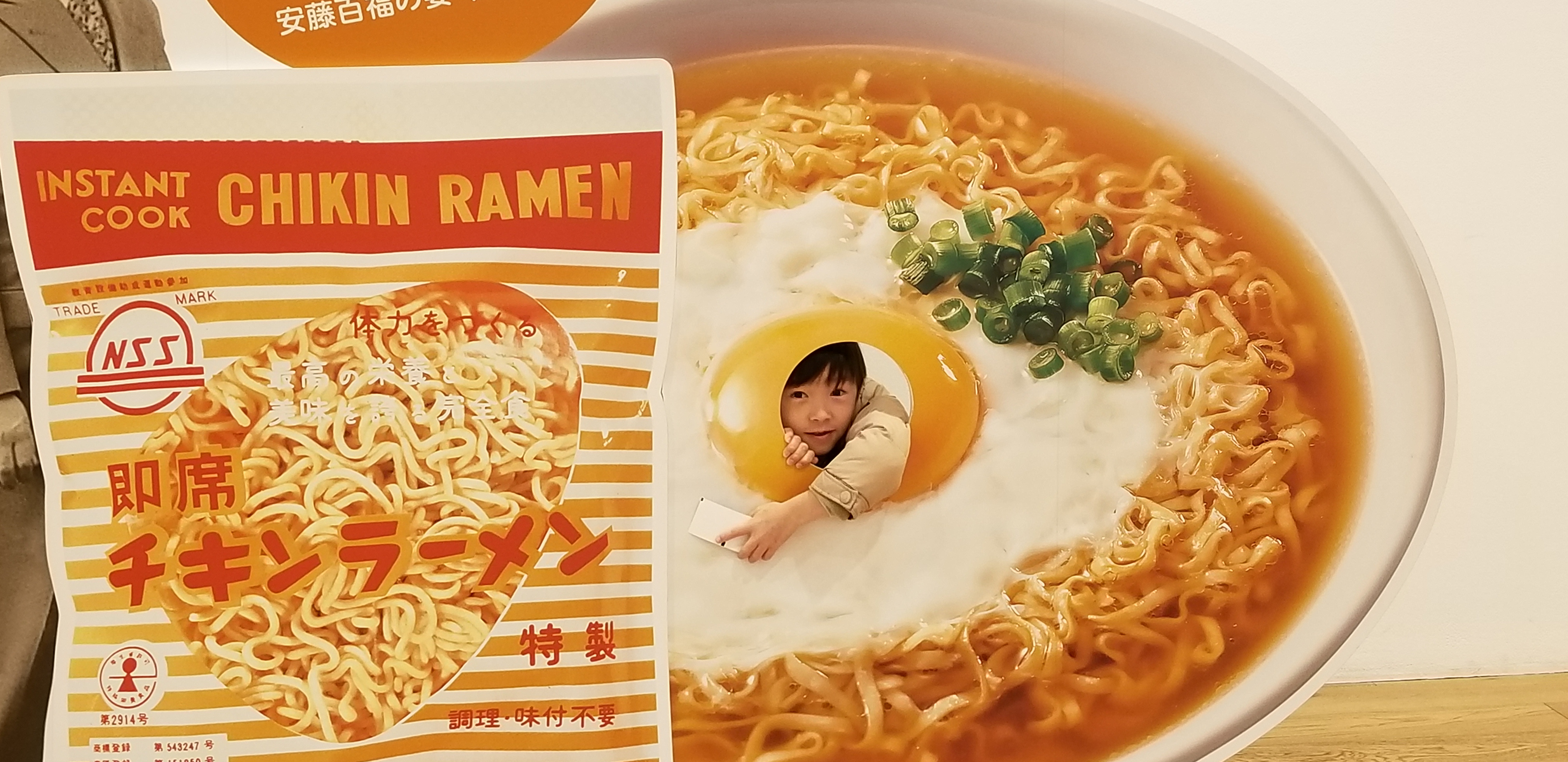 Cup Noodles Museum Review (Minato Mirai District, Yokohama City, Kanagawa Prefecture)
スポンサードサーチ
★ Cup Noodle Museum ★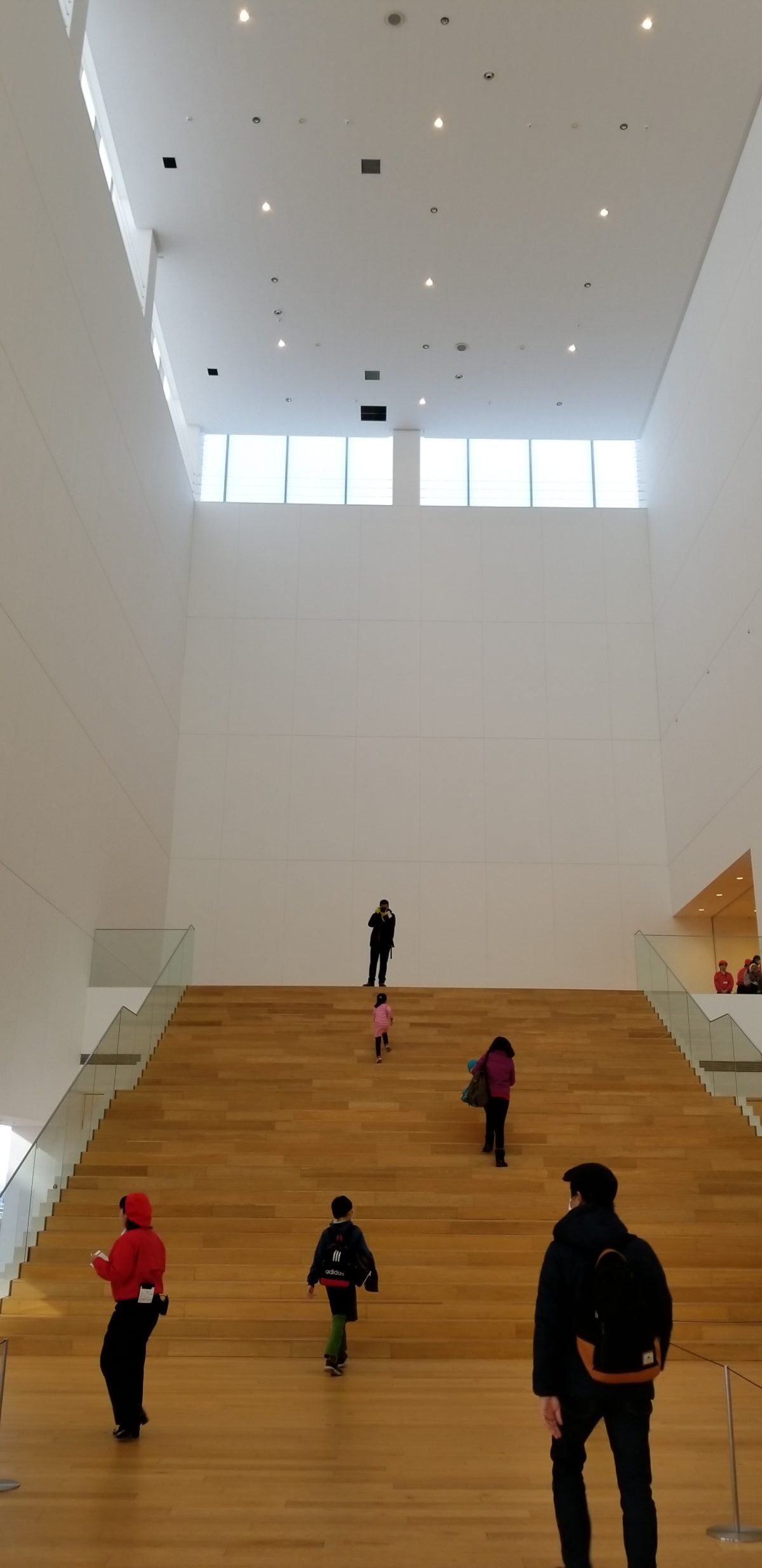 ◆ Opening hours
10:00-18:00 (Admission until 17:00)
Closed: Tuesdays (closed next day if holiday), New Year holidays
◆ Admission fee
Adult (college student or older): 500 yen
Free for high school students and below
◆ Attraction fees
Chicken ramen factory
Elementary school students 300 yen / Junior high school students and above 500 yen
From Wednesday, April 1, 2020, the fee for junior high school students and above will be revised from 500 yen to 800 yen, and the fee for elementary school students will be revised from 300 yen to 500 yen
My Cup Noodle Factory
300 yen per meal
From Wednesday, April 1, 2020, the fee for one meal will be revised from 300 yen to 400 yen
Cup noodle park
Once (30 minutes) 300 yen
From Wednesday, April 1, 2020, the fee for one time will be revised from 300 yen to 400 yen
NOODLES BAZAAR -World Noodle Road-
1 meal 300 yen (half size), mini chicken ramen 1 meal 150 yen, dessert of each country 300 yen, juice of each country 200 yen, drink bar 200 yen
From Wednesday, April 1, 2020, the charge for one meal (half size) is 300 yen → 400 yen, the charge for one mini chicken ramen is 150 yen → 200 yen, and the dessert fee for each country is 300 yen → 400 Will be revised to yen
The prices of juice and drink bars in each country will not change
◆ Access
・ Minatomirai Line 8 minutes on foot from Minatomirai Station 8 minutes on foot from Bashamichi Station
・ About 12 minutes on foot from JR / Municipal Subway "Sakuragicho Station"
The landmark is the Ferris wheel. This building is located diagonally across the intersection in front of the Cosmo World entrance where the Ferris wheel is located.
◆ Parking lot
There is a parking lot entrance behind the Cup Noodle Museum entrance.
The first hour is free when you present your admission ticket. After 1 hour, 250 yen will be charged every 30 minutes.
* Only about 40 cars can be parked. On Saturdays, Sundays, and holidays, it is very crowded.
My father and son (first grader) went to the Cup Noodle Museum!
Admission fee: 500 yen for adults
First, go to the cup noodle factory on the third floor,
It is important to get a numbered ticket.
If the reservation is available, I think that the chicken ramen factory can be reserved on the day.
Main exhibits
◆ Instant ramen ◆ History cube
◆ Hyakufuku Theater
◆ Creative Thinking Box
◆ Momofuku Ando History
◆ Hakufuku's research hut
◆ Flow of the Cup Noodle Factory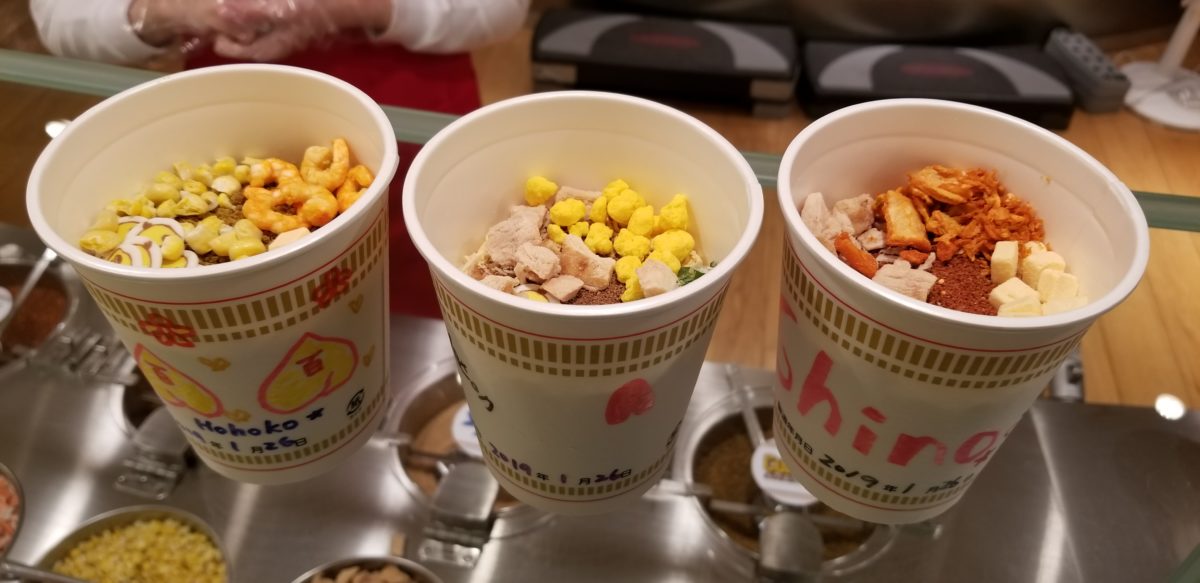 Go to the first floor cup noodle factory
At the Cup Noodle Factory, you can make your own original cup noodle and take it home with a souvenir.
First, you will receive a numbered ticket at the reception on the third floor on a first-come, first-served basis (the numbered tickets for the day will end as soon as they run out).
When it is time for your numbered ticket, you will line up, even if you go a little earlier than the time,
You may be able to enter early.
At the cup noodle factory entrance, you can buy a cup for 300 yen at a vending machine that buys my cup.
Once you have your cup, wait for the person in charge to guide you to the desk.
There is a felt-tip pen on the desk, so you can do your favorite design.
At this time, you can freely design or not, but you must enter the date of manufacture!
After the design is completed, they are lined up in the manufacturing process.
First, the taste of the cup noodle soup,
Choose from "Cup noodle", "Seafood noodle", "Cup noodle curry", "Chili tomato noodle".
Next, you can select 4 types of ingredients from 12 types.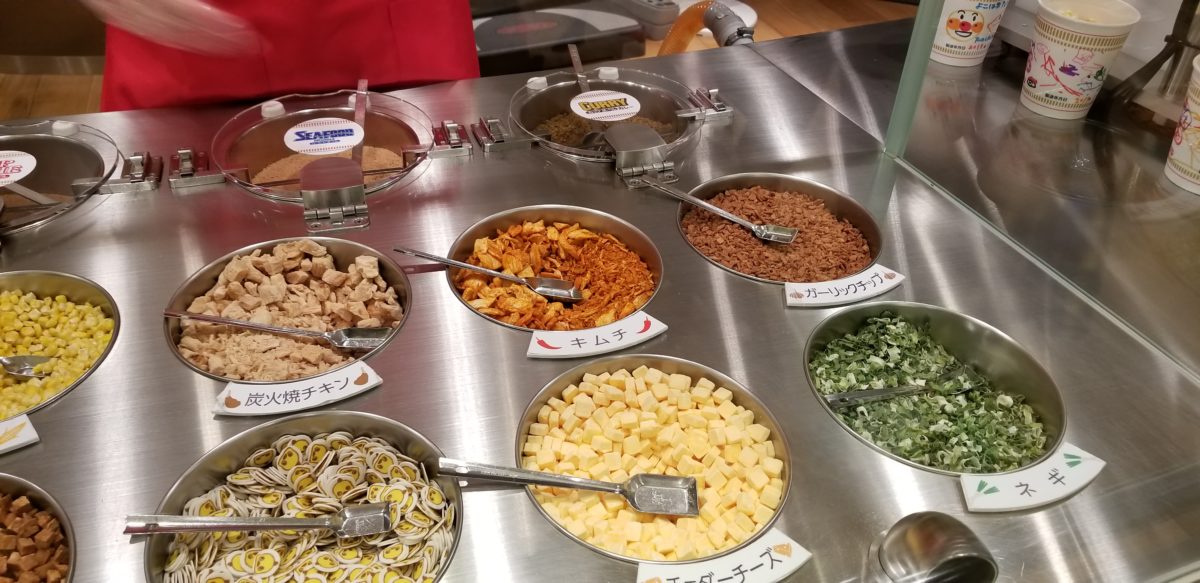 Next, put the noodles in the cup.
You can turn the handle yourself.
Then, the process of closing the lid and the process of packing follow.
When everything is over and your cup noodles are ready, you will receive a plastic bag for carrying.
Mysterious when putting my cup noodles in this plastic bag and inflating it with an air pump.
The carrying bag is completed.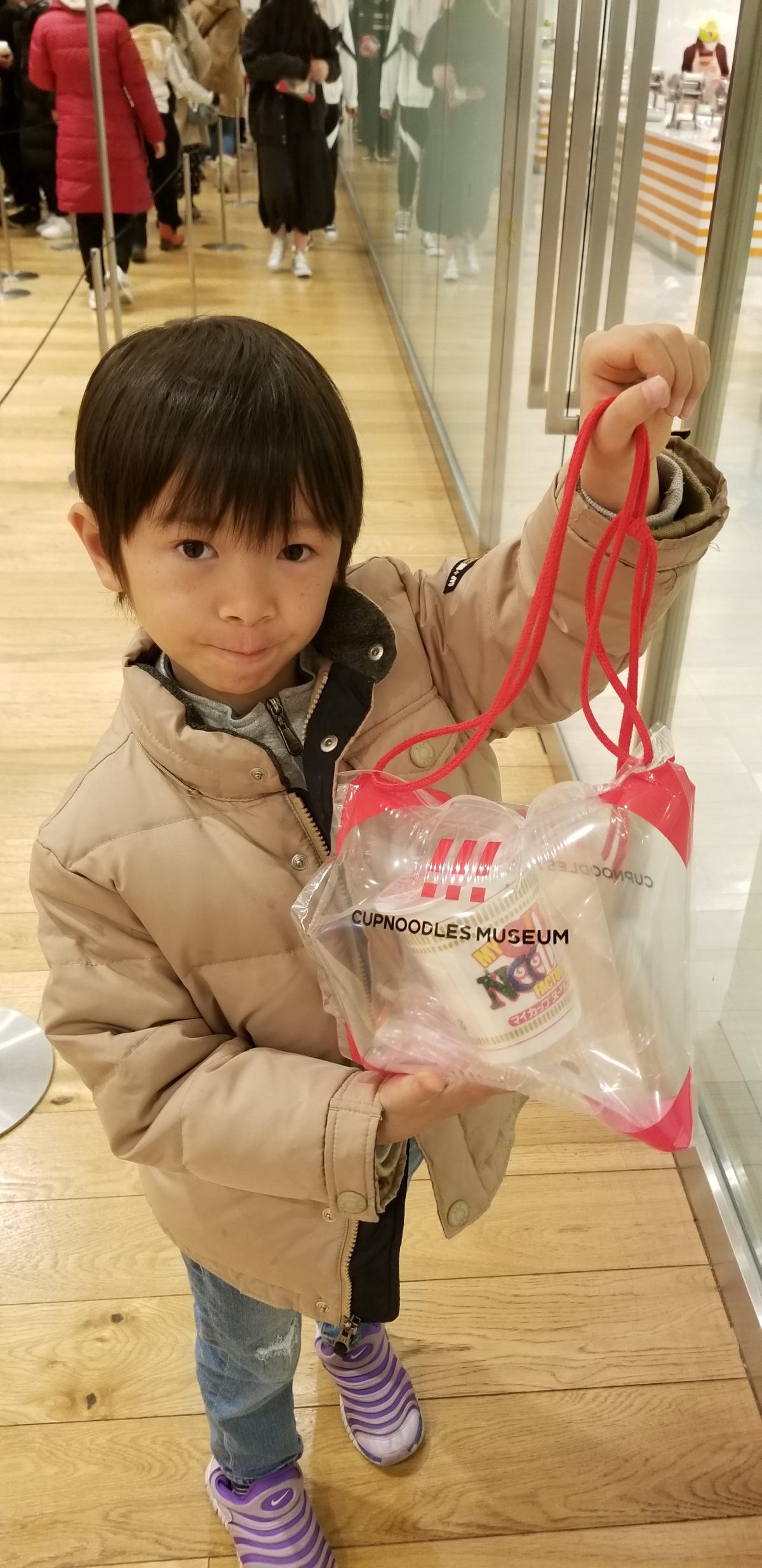 ◆ Cup Noodle Park
On the fourth floor, there are indoor attractions for children.
My son played here. This is also crowded on weekends,
If you plan to play, get a numbered ticket at the My Cup Noodle Factory, and at the 4th floor kids park reception,
It is a good idea to check when you can play.
You can play for 300 yen per person for 30 minutes. There are age restrictions and height restrictions,
Children 3 years and older and elementary school children and younger,
And admission is required to be at least 90 cm tall.
◆ NOODLES BAZAAR-World Noodle Road
At the end, if you are hungry, we recommend NOODLES BAZAAR, where you can eat cup noodles from around the world.
You can enjoy noodle menu of 9 countries including Japan.
The interior of the shop also has a nostalgic atmosphere that makes you feel the Showa era.
Buy your favorite menu at the ticket vending machine and put out your ticket at the counter.
◆ Museum Shop
You can buy souvenirs at the museum shop next to the first floor entrance.
Sells goods that can only be bought here.
It is said that "Cup Noodle Magnet" is popular among overseas people.
There are four miniature sizes.
Personally, I recommend chicken ramen bun.
It doesn't have chicken flavor but contains yolk bean and looks chicks are very cute.
6 pieces (900 yen)
スポンサードサーチ